Kinky. . . .
Bronze Coffin with Golden Blindfold Found in Western Iran
A two thousand-year bronze coffin containing a skeleton with golden blindfold and muzzle was found by archaeologists in a farm near Khorram-abad, in western province of Lorestan.

"These golden blindfold and muzzle Indicates that they belonged to a person from high class" said Jalal Adeli, the head of excavation group.

The shape of this 180x87x55cm coffin is similar to a bathtub with four helves. The blindfold and muzzle which were found over the skeleton was made of narrow golden layer.
VERY cool looking coffin:
And we can't ignore the
Mehr angle
on this story.
Lost city village. . .found!
Archaeologists unearth destroyed village
Chinese archaeologists have discovered what could well be a local version of Italy's Pompeii, in the form of an entire village destroyed in an earthquake nearly 700 years ago, state media has reported.

The hitherto unknown village, located in northern Hebei province, appears to have been a booming commercial centre during the Song Dynasty (960 to 1279 AD), the Xinhua news agency reported.
Web site alert
Rick Baudé alerts us to the LA County Museum of Art's web site that contains data on a lot of seals from the Amarna kings (Akhenaten, Tutankhamun, etc.) and provides links to some samples:
http://collectionsonline.lacma.org/mwebcgi/mweb.exe?request=record&key=6502
http://collectionsonline.lacma.org/mwebcgi/mweb.exe?request=record&key=6502
One of the great dangers of archaeology
Battle for the books of Herculaneum
"The promise and potential there is immense. This is the wellspring of Western civilisation. There could be the lost dialogues of Aristotle down there, the lost plays of Sophocles, poems of Catullus - it's just priceless. Anything that could be done to get it out should be done. It's irresponsible to leave it in the hope that it could be got out in 50 years."

So why aren't the archaeologists and engineers busy burrowing under the Villa of the Papyri now, as we speak, to bring this hypothetical treasure to the light? The essential reason is contained in a paradox: under present circumstances, the only way to ensure the survival of whatever may emerge from the villa is to leave it exactly where it is, encased in rock.
This is a pretty good article that sums up one of the central paradoxes of archaeology: Finding out what's there usually destroys most of it. We're tending more and more to assume that if it's not in immediate danger, leave it there. (We realize this is a horrendously complicated issue)
Ancient mural walls unearthed in Three Gorges area
Murals dating to China's Song dynasty (960-1279) have been unearthed at the Tuchengpo graves in Wushan county, southwest China's Chongqing Municipality. The mural walls were found in a man's grave where 9 other historic relics, such as porcelain bowls, porcelain pots and lampstand, were unearthed.

At the door of the grave, images of people, flowers and plants can be clearly seen. On the north wall, there are paintings of principal rooms, courtyard, corridor and more than ten figures.
Unique violet shards discovered in East Azarbaijan
A team of archaeologists has recently discovered over 100 violet-colored shards at the ancient site of Kala Tepe in the reservoir area of the Ai-Doqmush Dam, near the city of Mianeh in Iran's East Azarbaijan Province, Javad Qandgar, the director of the team said on Sunday.

The team has been tasked with saving the artifacts and gathering information from Kala Tepe, which contains ruins and artifacts from the Bronze Age. The site is being threatened by the Ai-Doqmush Dam, which recently became operational.
At least they clarified why the purple was important. Otherwise, heck, we could make the news every day! "Archaeologists find thousands of red burnished shards. . . "
The Masang Daza tombs
The history department of Sherubtse College in Kanglung is trying to unearth more on this possibility prompted by the discovery of about 20 burial tombs in Masang Daza, a village in Lingmithang, Mongar.

The Masang Daza burial tombs are the first of its kind to have been discovered in Bhutan and could throw light on some aspects of our ancient history.

Masang Daza lies on the left bank of Moi ri river and across the lateral highway that connects Mongar to Bumthang. Nearby is Jangdung village and the ruins of the Old Zhongar Dzong.
PORTUGAL: MEDIEVAL MUSLIM BURIAL GROUND UNEARTHED
Skeletons belonging to some 35 corpses have surfaced from a Portuguese excavation site which archaelogists believe could be one of the the largest medieval Muslim burial grounds in Europe. The corpses, found in vaults carved out of the rockface were buried facing due west in the direction of the Muslim holy city, Mecca. The remains were unearthed at the Largo de Candido Dos Reis park, near the northern Portuguese city of Santarem.
Useless trivia department: We watched the
National Treasure
DVD this weekend and it includes a short mini-documentary on the Knights Templar. Kind of overwraught with intrigue we thought, but we could have sworn that the narrator was the 3rd knight from
Indiana Jones and the Last Crusade
.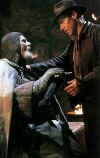 [Update]: That would be
Robert Eddison
if that is him.
Pleistocene Park update
'Pleistocene Park' experiment
Efforts are under way to restore part of Siberia to the way it was more than 10,000 years ago, before the end of the last ice age.

The "Pleistocene Park" experiment will try to turn the wet, boggy tundra back to the dry grasslands that once were home to large herds of stampeding mammals.

These creatures included bison, horses, reindeer, musk-oxen, elk, saiga, and yaks and even woolly rhinos and mammoths. There were top predators, too, such as cave lions and wolves.

It is hoped that by re-introducing some of the still-surviving species, grazing will begin again and restore the landscape.
Kind of an interesting article. Read the whole thing.
Some ancillary stories of interestes
Leprosy genome tells story of human migrations, French researchers report in Science
A French genetics study comparing strains of leprosy-causing bacteria has revealed some surprises about how the pathogen evolved and how it was spread across the continents by human migrations. The research, led by scientists at the Pasteur Institute in Paris, appears in the 13 May issue of the journal Science, published by AAAS, the nonprofit science society.

The findings indicate that the world's existing leprosy infections are all caused by a single bacterial clone that has spread yet barely mutated for centuries. They also show that the disease may have begun in East Africa, as opposed to India as previously thought, and then spread to the other continents in part through European colonialism and later the slave trade.

One of the oldest known human diseases, leprosy is still a significant problem in parts of the developing world, especially India. According to the World Health Organization, roughly 500,000 new cases were detected in 2003. (http://www.who.int/lep/stat2002/global02.htm)
See also
here
and
here.
Early African migrants made eastward exit
The first modern humans to emigrate from Africa may have done so by sticking to the coast.

Analysis of surviving aboriginal populations in Southeast Asia suggest that they arose from a single wave of migrants who left the Horn of Africa more than 65,000 years ago. By following the coasts, say the authors of the new analyses, early humans may have been able to colonize the globe with remarkable speed - reaching far-flung lands such as Australia within just a few thousand years.

Most experts agree that modern humans arose in Africa before spreading throughout the world. But while archaeological evidence suggests that humans moved north into Egypt and the Middle East, climate records show that this region was an inhospitable desert until 50,000 years ago, making this an unlikely choice of route.
Homo hobbitus revisited
Pygmy Village Casts Doubt on 'Hobbit' Human
Indonesian researchers have found a thriving community of pygmies on the island of Flores, just over a half mile away from where scientists had excavated a "hobbit" skeleton attributed to a new human species, according to a recent report in Indonesia's Kompas newspaper.

Teuku Jacob, professor of palaeoanthropology at Gadjah Mada University, led the research team. Since the discovery of Homo floresiensis — nicknamed the "hobbit" human — Jacob has expressed doubts that the skeleton represents an extinct hominid species.