Show us the money!
Norway withholds $500,000 grant for Lahore Fort
The Norwegian aid agency, NORAD, has withheld a $500,000 grant for the Lahore Fort because of the federal government's stalling on the agency's demand that the gate money from the Fort be spent on its maintenance, Archaeology Department sources told Daily Times on Thursday.

The sources said the federal government was not seriously addressing the gate money issue. NORAD (The Norwegian Agency for Development Cooperation) was to release the grant in November with the condition that the gate money of the Fort be spent on its maintenance only, they said. They said that the Archaeology Department had sent a summary to the federal government in this regard which was approved by former prime minister Mir Zafarullah Khan Jamali.
Found: One of the Two Towers
Archaeologists uncover medieval tower
Archaelologists have unearthed part of a ruined fourteenth century castle in Caithness that's lain undiscovered for over three hundred years. A team from York University found a tower at Sinclair Giringoe Castle, the original seat of the earls of Caithness.

The dramatic profile of Castle Sinclair Giringoe in Caithness hints at the history it's witnessed. The ruined medieval castle sits atop a rock promontory and until recently was believed to be two seperate fortresses but experts now believe it to be just one.
More Viking stuff
Viking burial site found in England
Archaeologists in northwestern England have found a burial site of six Viking men and women, complete with swords, spears, jewelry, fire-making materials and riding equipment, officials said Monday.

The site, discovered near Cumwhitton, is believed to date to the early 10th century, and archaeologists working there called it the first Viking burial ground found in Britain.

The only other known Viking cemetery was found in Ingleby east of Cumwhitton. It was excavated in the 1940s, but the bodies had been cremated and not buried.
Artists' conception of what the Vikings may have looked like: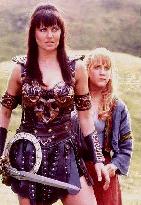 Hat tip to Susanne for that link.
Lost civilization of the Americas
The Lost City of Cahokia: Ancient Tribes of the Mississippi Brought to Life
The city of Cahokia, in modern-day Illinois, had a population of twenty thousand at its pinnacle in the 1300s. With pyramids, mounds, and several large ceremonial areas, Cahokia was the hub of a way of life for millions of Native Americans before the society's decline and devastation by foreign diseases.

Representatives from eleven tribes are working alongside archaeologists and anthropologists to assist the Art Institute of Chicago in developing an exhibition that explores artistic and cultural themes of a major branch of pre-Columbian civilization--the direct ancestors of most American Indians today. "Hero, Hawk and Open Hand: American Indian Art of the Ancient Midwest and South," opening November 20, comprises more than three hundred works. It's one of the largest showings of artifacts, design, and architecture dating from the rise and decline of Mississippian civilizations in the Midwest and the South between 2000 B.C.E and 1600 C.E.
Nice summary of mid-American prehistory. Cahokia is one of those really great places that few people outside of archaeological circles know about.
And from the same place
Virtual Trowel: Learning About Archaeology Online
In December, students and archaeology enthusiasts alike will be able to catch a glimpse of a real archaeological dig--online. The Old Pueblo Archaeology Center is building an interactive website called the "Web of Archaeology."

"This website will be set up so that people can start with the modern ground surface in the photo on the screen and make decisions about how to excavate it," says Al Dart, the center's executive director. "We haven't found any other archaeological excavation site on the Web in which somebody could actually excavate a prehistoric archaeological feature."
That sounds really neat depending on how it works out.
More bodies found
L.A. Development Unearths Indian Cemetery
It was inevitable that crews building a massive housing development near west Los Angeles wetlands would unearth American Indian remains.

The ground had yielded bones before, but the extent of the latest find turned one corridor of a multibillion dollar project into a multimillion dollar archaeological dig.

Now about 400 remains of Gabrielino-Tongva tribal ancestors, the original inhabitants of the Los Angeles basin, are packed in boxes in a locked trailer near where they rested for hundreds of years. Delayed for 10 months by the excavation, the just-completed drainage channel built through the burial site will carry runoff from 6,000 properties to the Pacific Ocean less than a mile away.
Fight! Fight!
Locals Fight Wal-Mart Store Near Ancient Mexico Ruin
n the shadow of colossal pyramids left by a great Mexican civilization, a Wal-Mart rises, and some locals have gone to court to overturn its approval.

The sprawling warehouse-style Bodega Aurrera, a unit of Wal-Mart in Mexico, is due to open in December in Teotihuacan, the site of major archeological ruins outside Mexico City.

Workers are putting on the roof this week.

"It's not just that commerce in Teotihuacan will be affected. It affects first of all our soul, our identity," said local teacher Emanuel D'Herrera, who joined legal action to stop the store.
Update on the secret room in the Great Pyramid theory
French Egyptologists Defend Pyramid Theory
A pair of French Egyptologists who suspect they have found a previously unknown chamber in the Great Pyramid urged Egypt's antiquities chief to reconsider letting them test their theory by drilling new holes in the 4,600-year-old structure.

Jean Yves Verd'hurt and fellow Frenchman Gilles Dormion, who has studied pyramid construction for more than 20 years, are expected to raise their views during the ninth International Congress of Egyptologists in Grenoble, France, which starts Monday. They also published a book about their theory this week.

Standing in their way is Zahi Hawass, the director of Egypt's Supreme Council of Antiquities, who heatedly rejected the theories during a Cairo press conference this week.

``There are 300 theories concerning hidden rooms and other things inside the pyramid, but if I let them all test their theories they will do untold damage to the pyramid, which was built with the blood of Egyptians,'' said Hawass. ``I will not let Egyptian blood be damaged by amateurs.''