Christmas blogging
We here at ArchaeoBlog appreciate the holiday season, we really do. And to make sure all of our loyal readers do, too, we hereby provide you, gentle readers, with at least two items which, if used properly, will increase your enjoyment of the season as well, even if your family is composed of a bunch of
cognitively less advanced
fellow hominids. Herewith, we now reveal
the
two best Christmas albums ever:
Christmas With The Rat Pack
: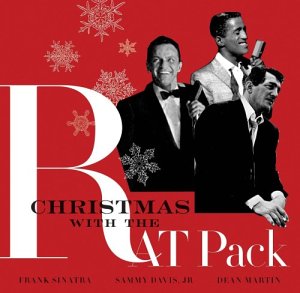 Just as irony is being pronounced dead, along comes this boozy holiday compilation to suggest that rumors of its demise may be premature. Given the culture's simmering lounge mania, this collection (with its cheesy homage/rip-off Oceans 11 art direction) may be belated--but hey, punctuality was never these swingin' cats' bag, Jack. The novelty of having three of the 20th century's most notorious sinners belt, whoop, and sing the praises of sleigh bells, roasting chestnuts, and the virgin birth would be enough to recommend this dizzy, 21-track delight, but there's actually some rewarding pop archaeology here as well. Two of the best tracks--Sammy Davis's ring-a-ding-ding romp through "Jingle Bells" and Dino's dreamy "Peace on Earth/Silent Night"--hail from a vintage, ultra-rare Reprise sampler. Sammy's typically over-the-top "Christmastime All Over the World" and Nat Cole tribute, "The Christmas Song," also make their CD debut. Dino's holiday TV specials yield more unreleased rarities: Sinatra-Martin duets of the loopy "Marshmallow World" and a touchingly tipsy take on "Auld Lang Syne" that suggests the boys have shared more than one cup of kindness.
(See, even a reference to archaeology!)
Well put, Amazon reviewer. In fact, that might not be the exact album we here at ArchaeoBlog have nearly always blasting through the sound system in our spacious metropolitan offices, but it's close enough. True 'dat: Sammy's
Jingle Bells
is a classic:
Jing. . .Jing. . .Jingle in the morning. . .jingle all the way. . .
. Any other version will leave you weaping.
Elvis: It's Christmas Time
:
Actually, most of this isn't all
that
great, but no Christmas, and no Christmas collection, is complete without Elvis's
Blue Christmas
,
Santa Claus is Back in Town
("Got no sleigh with reindeer. . .no sack on my back. . .you're gonna see me coming. . .in a big black Cadillac"), and
Santa Bring my Baby Back (To Me)
.
A close runner-up, albeit not for any non-Americans, is
A Charlie Brown Christmas: The Original Sound Track Recording Of The CBS Television Special
. For those of a certain age, this will bring back memories. Plus, the Vince Guaraldi is great anyhow so it's listenable just for that.
So, go out ye merry gentlemen (and women) and get some of that good cheer, ho ho ho and all that jazz.